Visible Radiance Series
It's clinically proven to combat premature ageing and skin dullness.
1. Deep Cleansing
Peach leaf, raspberry and apple fruit extract (Rayolys)
Tested & proven: Skin texture becomes
smoother and skin appears brighter
with fewer brown spots
(Clinical study conducted by Laboratoire Skin Research, France 2002)
2. Deep Moisturising
with Unique Nano-Encapsulation Technology
Prepares skin for better
protection against early ageing as particle sizes are 1000 times smaller than 1 micron
. It also helps to stabilise active ingredients and progressively
allow nutrients to permeate deep into skin layers for the best efficiency.
3. Super Anti-Oxidant & Anti-Inflammatory
Vitis Vinifera (Viniferol)
Contains anti-oxidant and anti-ageing properties to promote skin radiance and prevent premature ageing. It contains effective antioxidants that may:- i. Lessen oxidantion ii. Inactivate free radicals iii. Restore some normal functions of tissues damaged by free radicals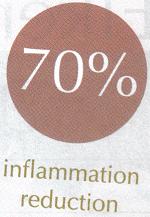 Tested & Proven: Vitis Vinifera (Viniferol) has been proven to reduce the inflammation of facial skin by about 70% compared to vitamin E (20%).
(Clinical study conducted by Laboratoire Skin Research, France 2002)
Reduced
inflammation
strengthens
capillaries
and increases resistance to combat toxins and grease accumulation. Visible Radiance in combination with Elken Mega Beauty / Elken Beauty Guasa further enhances and provide:
exceptional deep cleansing
moisture-retention and nutrient absorption by 4 times
blood circulation enhancement
Dull Skin, WHY?
Dull skin is caused by
poor skin rejuvenation
which is a vicious cycle of dead skin unable to shed quickly and low turnover rate of new skin cells. This condition is closely related to
poor nutrient absorption.
1.
Improper cleansing
clogs the pores and prevents absorption of moisture & nutrients into skin. 2.
Improper moisturising
with products with large molecules of nutrients also leads to poor nutrient absorption. Smaller molecules of nutrients in moisturisers are vital for deep nourishment. 3.
Environmental stress and ageing
can cause dullness and lack of lustre-common signs of
free-radical effects and premature ageing
. Hence, anti-oxidant and anti-ageing properties in skin care products are essential. 4.
Poor blood circulation
may decrease nourishment and moisture delivered to skin cells. Facial massage is important in enhancing blood circulation.
SUNDAY, OCTOBER 09, 2005
Soybean Extract
84%

Softer & Moisturised Skin
As skin's dryness increase, softness will decrease due to loss of moiture through evaporation from the skin cells. To care for dry skin, the secret lies in careful management of its moisture content. The moisture level of millions of skin cells is affected by Natural Moisturising Factors. NMFs are water-attracting compounds located primarily in the epidermis. Loss of skin's moisture is due to environmental factors, improper cleansing, poor cell renewal and high alcohol content in the clarifying lotions / toners.
Testimonial from Jess Teong - Ageless Beauty
I have always believed that good skin is a god-given gift to all and is a woman's second priority in life.
Thus, from young, I have always taken good care of my skin because I firmly believe that "a woman with good skin is the most beautiful woman!" Therefore, choosing a complete and appropriate skin care products, which is perfect for my skin is my life's greatest pursuit!
I was once a singer, and being constantly on stage and in the limelight, I had to wear thick make-up and retouching of more make-up. I also had extremely tight schedules and long working hours.
Later, like other women, I got married and gave birth. As the consequence of my lifestyle, wrinkles, freckles and dark patches started to appear on my skin. Thus, it is dehydrate, loss of radiance and elasticity. The ravage of time took its toll on my complexion. But the timely arrival of Ultimate Perfect, Dr-Xeniji and Elken's new range of skin care products helped to ease my facial problems. Now, in my forties with two sons aged 8 and 5, I still receive praises and appreciative glances. Most people remark that I look even more beautiful than before. When in public, besides envious stares, I am often mistaken for a lady in my 20s. I am just too pleased, really!
In the nineties, the song that made me famous was "Can a woman be beautiful until 50?" Having sung the song for 15 years, I have finally found the elusive answer and secret. I am now a living proof that a woman can be beautiful not only up to 50, but also 60, 70 and even 80 years old. Thank you Elken for enabling me to regain my beauty and confidence! My message to all women: with Elken, looking youthful is now not a problem!